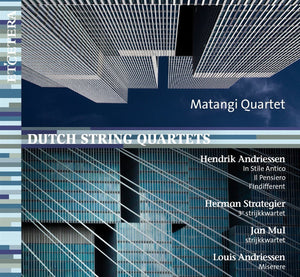 Dutch String Quartets (CD)
H. Andriessen, H. Strategier, J. Mul & L. Andriessen

Matangi Quartet

Sale price Price €17,50 Regular price Unit price / per

Tax included / Shipping costs within Netherlands €3,95, rest of Europe starting at €7,00

.
Quartetto - In Stile Antico | Hendrik Andriessen
Il Pensiero | Hendrik Andriessen
L'indifférent pour quator à cordes | Hendrik Andriessen
String Quartet no. 3 | Herman Strategier
String Quartet | Jan Mul
...Miserere... | Louis Andriessen

The Matangi Quartet gave a concert of string quartets by Hendrik Andriessen, Jan Mul, Herman Strategier and Hendrik's youngest son Louis Andriessen in January 2020. It was a particularly special occasion because it was once again apparent that the quality of the instrumental writing displayed by these composers was of the highest.


The concert, organised and presented by the Andriessen/De Klerk Foundation in Haarlem, caused this body and the Herman Strategier Foundation to consider whether these works might be recorded on CD, as such a project would fulfil their most important goals: the revelation, documentation, registration and performance of these composers' works. An important piece of cultural heritage would also be preserved on record. As Matangi, we are proud that we could contribute to the recording of these works from Dutch music history. It was even more special for us to be able to add …miserere… by Louis Andriessen to the CD, since we were able to work intensively on it with Louis.

Recording date: November/December 2021 - Zaandam, Muziekhaven
Recorded by: Tom Peeters
Label: Etcetera Records

Choosing a selection results in a full page refresh.
Press the space key then arrow keys to make a selection.