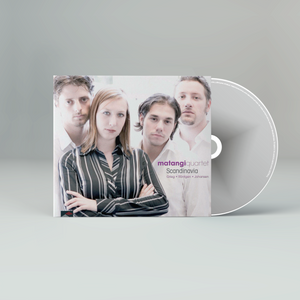 Scandinavia (CD)
String Quartet op.27 – Grieg, op.35 – Johansen, Quartettino - Röntgen

Matangi Quartet

Sale price Price $13.89 Regular price Unit price / per

Tax included / Shipping costs within Netherlands €3,95, rest of Europe starting at €7,00

.
The expressive string quartet in G by Grieg and a remarkably strong imagination in the quartet of a certain David Monrad Johansen, composed in 1969 by this relatively unknown Norwegian composer, Matangi also plays a short two-part Quartettino in A by the Dutch. composer Julius Röntgen, a romantic whose work has fortunately come to the fore more recently than ever before. Since Röntgen was close friends with Grieg, his lively, imaginative and brilliantly written quartet is a masterful trouvaille as the final piece of these fine string quartets from Norwegian and Dutch soil, presented with great intensity and musical expressiveness. A programmatically original and fun-filled recording, which can be warmly recommended.
String Quartet in G Minor, Opus 27 - Edvard Grieg

01 Un poco andante - Allegro molto ed agitato - 12:33

02 Romanze: Andantino - Allegro agitato - 07:01

03 Intermezzo: Allegro molto marcato - Allegro agitato - 06:31
04 Finale: Lento - Presto al Saltarello - 09:59
String Quartet, Opus 35 - David Monrad Johansen
05. Agitato - Allegro - 05:36
06. Allegro vivace    03:20

07. Largo - 06:19
08. Agitato - 03:43
Quartettino In A Minor - Julius Röntgen
09. Minor Con moto ed agitato - 07:00
10. Allegro molto - 02:26
Catalog: CC 72137
Release: 08 September 2005
Choosing a selection results in a full page refresh.
Press the space key then arrow keys to make a selection.