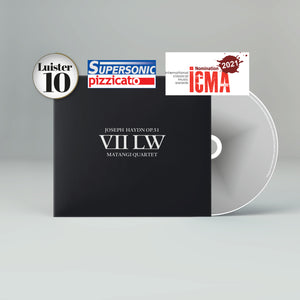 VII LW - Die Sieben letzten Worte (CD)
Die Sieben Letzten Worte - J. Haydn

Matangi Quartet

Sale price Price €10,00 Regular price €14,95 Unit price / per

Tax included / Shipping costs within Netherlands €3,95, rest of Europe starting at €7,00

.
April 14 2020 - VII LW awarded Supersonic Pizzicato Award
Nominated for ICMA 2021 Award
Luister 10 Award
"Nuances in dynamics and colour, subtle phrasing, expressive pauses let the music appear in all its significance, without any exaggeration, always tasteful and with an excellent knowledge of the appropriate performing style. All this makes this release another reference recording of one of the greatest works of quartet literature."
What could be a bigger challenge than giving musical expression and shape to "Die sieben letzten Worte", the seven last sentences that Jesus spoke on the cross: giving feeling and articulation to the most charged text in the world, but without the words? Haydn did this more than successfully in 1787 with these seven string quartets.
The narrative character of these seven sonatas for string quartet really makes its mark on the listener. The slow tempi of the dramatic opening and each of the seven parts that follow, and indeed the sheer length of the piece all bring us into an almost trance-like state: an hour of adagios with many contrasts of atmosphere and feeling, and then suddenly the bombastic and shocking earthquake (Terremoto) of the final two minutes.
This is a trial of stamina for four musicians who have to give form to a rollercoaster of intense feelings that range from despair and pain to forgiveness and hope, resignation and death.
Of all of the versions that exist of this piece, that for string quartet has become the most well-known and popular, possibly because the intimacy of this form best coincides with something like four people united in prayer.

The Seven Last Words op. 51 - Joseph Haydn


01 Introduzione - Maestoso Adagio - 05:23
02 Sonata I: Largo - 06:24
03 Sonata II: Grave e Cantabile - 08:37
04 Sonata III: Grave - 09:32
05 Sonata IV: Largo - 07:21
06 Sonata V: Adagio - 08:04
07 Sonata VI: Lento - 08:56
08 Sonata VII: Largo - 08:55
09 Il Terremoto: Presto e con tutta la forza - 01:56

Catalog: MTM03
Release: March 2020
Recorded at: De Doelen - Jurriaanse Zaal - Rotterdam
Recorded by: Bert van der Wolf

Choosing a selection results in a full page refresh.
Press the space key then arrow keys to make a selection.