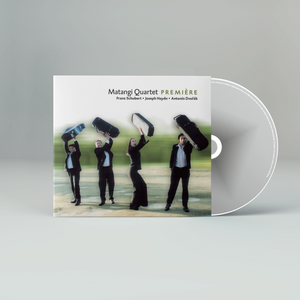 Première (CD)
Quartettsatz – Schubert, Quartets op. 20/4 – Haydn, op. 96 - Dvorak

Matangi Quartet

Sale price Price €12,50 Regular price Unit price / per

Tax included / Shipping costs within Netherlands €3,95, rest of Europe starting at €7,00

.
When we had decided to record this CD, we were unanimous in our wish that there had to be a piece by our great hero, the father of the string quartet, Joseph Haydn. How we all would have liked to have known him personally. The quartets of Haydn are so multifaceted that they offer a challenge to amateurs and professionals alike. Technically the music often appears simple, but those who look further into these pieces will find one surprise after the other, as well as crazy themes, harmonies and sequences. We have tried to record the Bach-like purity, almost sanctity of this quartet.


Frans Schubert
01 String Quartet in C minor- Quartettsatz - 09:35
String Quartet in D Major, Op. 20/4 - Joseph Haydn
02 Allegro di molto - 10:42
03 Un poco adagio e affettuoso - 08:55
04 Menuet alla Zingarese. Allegretto - 01:31
05 Presto e scherzando - 07:26
String Quartet in F Major, Op. 96 'American' - Antonin Dvorak
06 Allegro ma non troppo - 09:14
07 Lento - 06:54
08 Molto vivace - 04:02
09 Vivace, ma non troppo - 05:33


Catalog: CC 72164
Release: 05 June 2006

Choosing a selection results in a full page refresh.
Press the space key then arrow keys to make a selection.